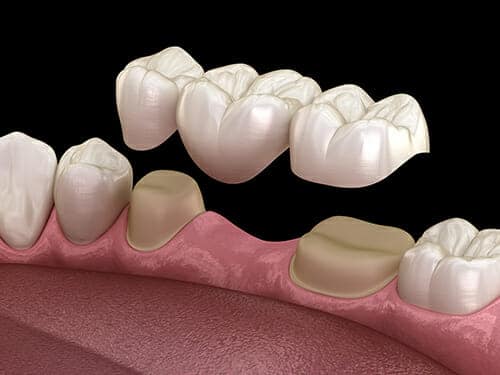 Missing teeth can cause the alignment of your other teeth to shift, changing both your appearance and the ability to chew and speak normally. If you've lost a tooth, Dr. Ramla Ahmed may recommend treatment with a dental bridge to close the gap in your smile, preserving the health of your bite and your ability to chew. Give us a call at 732-254-6669 to learn more about dental bridges in East Brunswick, NJ, and schedule your consultation.
Missing one or more teeth in a row can cause a lot of problems. Our solution is something called a dental bridge. A bridge is a fixed solution, meaning it is nonremovable. The dental bridge is anchored in place using two dental crowns and they're custom-made to fit your smile! That way, you don't have to worry about your bridge shifting or coming loose. It only takes two visits to complete the procedure and bridges are designed to last for many years and to restore the function, beauty, and health of your smile.
Our dentist may recommend a dental bridge to improve your smile by:
Restoring your ability to speak, eat and chew normally
Alleviating excess stress on the bite
Improving the shape and volume of your face
Replacing an unwanted removable partial denture
Preventing the remaining natural teeth from moving out of position
Enhancing the appearance of your smile

We will help you determine whether a custom dental bridge is the right choice for restoring your smile after tooth loss. For more information, please call or visit us today.